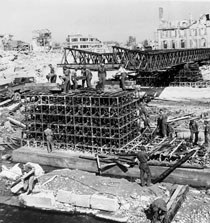 The Canadian Military Engineers Museum houses some of the finest engineer-specific and general military artefacts in the country illustrating the major achievements of the Canadian Military Engineers in the development of Canada in times of peace and war. With its "living museum" concept, there are tens of thousands of artifacts on display throughout the museum and within the walls of the Canadian Forces School of Military Engineering, which is the home of the CME Museum. The CME Museum was created to gather, collect, restore, preserve, interpret, and display materials that reflect the history of the Military Engineer Branch with the view to educating Branch members of their history and to inform the public of the contributions of the Canadian Military Engineers.
The works within the walls of the museum represent the history of all facets of the Canadian Military Engineers. From the 18th century to the present, from bulldozers to buttons, and from the Victoria Cross won by Captain Norman Mitchell during the First World War to sketches by F.H.Varley of the Group of Seven, the collection, some of which can now be seen online, captures the identity of the Corps and its role in the formation of Canada. Artworks are not the only valued items at the museum, it is also home to a large library of recent military films and reference books that date back to the 18th century.
Current and past members of both the Engineer Branch and military family, as well as interested members of the public, have long provided the financial support to make it possible to interpret and preserve collection artifacts, improve upon existing displays, and to acquire new works, or have directly donated artifacts, skills, and enthusiasm. Volunteers have been essential in the museum's progress to date.
The museum continues in its efforts to reach as many as possible through outreach programs, the development of partnerships, and the sharing of those artifacts that we hold. The museum strives to ensure the preservation of the history of the Corps, pique the interest of our patrons, and involve the community in our efforts.
Your continued interest, donations, and volunteerism are the means by which the educational mission of the CME Museum can be achieved. We truly thank you for your generosity to and concern for the well-being and maintenance of the history of the Military Engineer Branch.