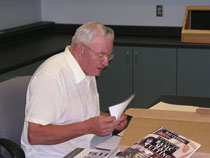 Time, Skills, Knowledge, and Passion.
There are many ways you can contribute to the enhancement of the CME Museum. Everyone visiting this site can make a contribution. If you live in the Greater Oromocto/Fredericton area and have carpentry skills, an electrical background, seamstress skills, like to do display creation, maintenance and cleaning of artifacts, or a myriad of other abilities or interests, we can use your help. If you are out of the local area you can still greatly assist. Do you have a detailed knowledge of Engineer history? Are you a student of WW I, WW II, Korea, any UN tour, a member involved in a key domestic military task or project? Period weapons? Uniforms? Do you like to do research? Do you have written or taped memoirs of key engineer related events? Do you have art skills? We need your help in interpreting the many, many items we hold but haven't got the capability to determine the background, utilization, or even names of some items! Even from a distance your expertise and interest can be of vital importance to the well-being of the museum. Please contact the Museum Curator to discuss how best your skills and time could benefit Branch history.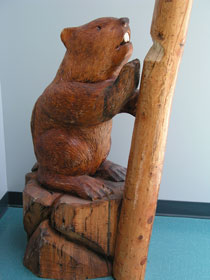 Check your attics, check you basements, and out in the garage! With so many former and serving engineers, we know there is a wealth of valuable artefacts out there, which, once you may no longer have a need for, may still be of great importance to the Branch and the museum. Please call the museum curator to discuss what you would be willing to donate. We will gratefully acknowledge your gift in this site.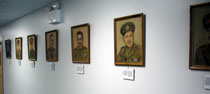 The CME Museum does not offer yearly memberships or charge visitor fees as a means to fund the preservation, interpretation, and development of its collection. The majority of any enhancements to the museum come directly from the gifts of private citizens and philanthropic organizations. If you would like to support the growth of the CME Museum and ensure its continuation and advancement for future generations, please consider a financial donation. Should you wish your contribution directed to a specific project we would be pleased to do so. Please make a cheque payable to the CME Museum. A tax receipt for the full amount of your contribution will be issued to you. Again. Please contact the Museum Curator should you have any questions.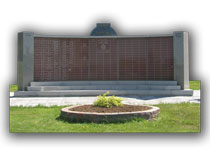 A Gift in Honour to the Canadian Military Engineer Museum is a considerate way to celebrate or honour veterans, family members and friends. Should you wish to celebrate an important occasion, express sympathy, or pay tribute to the memory of a loved one or fellow military member, a personalized card in acknowledgement of the gift will be sent to the individual or family being honoured, without reference to the size of the gift. As the donor, you will receive a tax-receipt for the full amount of the contribution.